Hey, just so you know ... This post includes affiliate links. That means if you use them to make a purchase, I may earn a commission. You can read my full affiliate disclosure HERE.
One of the best things about renting an RV for your vacation is that you have your pick of rigs. You can really rough it and go off-road. Or you might choose a more traditional camping experience? Or, you can travel in high style with a luxury RV rental.
With a luxury RV rental, you can bring all the amenities and comforts of home, plus tons of extra glam, with you on the road. In this article, we'll take a look at what sets luxury RV rentals apart from the rest and share how to find them.
How Are Luxury RV Rentals Different?
Luxury RVs are different from standard RVs in several ways. Most obviously, the appearance and finishes are sleeker, richer, and higher quality. Whereas in a Cruise America rental RV you might find Formica countertops and linoleum floors, a luxury RV will sport solid granite countertops and hardwood floors, with artisan tiles in the bathroom(s) and plush carpet in the bedroom. All the appliances are top of the line, the ceilings are higher, bigger windows let in more light, extra slide-outs turn these RVs into veritable mansions, and everything from noise to temperature is meticulously controlled.
Some luxury RVs include multiple bathrooms, king-sized beds, multiple flat-screen TVs, a washer and dryer, leather couches and driving seats, remote-controlled blinds, office spaces, and so much more. They have the look and feel of super high-end hotel rooms and you almost wouldn't even know that you were inside an RV. They also have new and improved technology that just isn't there in older or more basic RVs.
Why Choose Luxury RV Glamping?
Quite simply, sometimes you have to treat yourself! Traveling in a luxury RV rental is one of the most exceptional ways to see the world. If you want to celebrate a special occasion like an anniversary or retirement but you enjoy the outdoors more than city life, a luxury RV rental allows you to celebrate in style while getting away from it all.
Renting a luxury RV is also a good way to dip your toes in the water if you are considering buying one for yourself. It's definitely a good idea to test out RVing in general to make sure you enjoy it, and to get a feel for a few different layouts and styles of luxury RVs before you make such a large financial commitment. Luxury RVs can cost upwards of $2 million to purchase outright, but you can rent one for $300 to $800 per night.
Advantages of Luxury RV Travel
RVing has definite benefits over staying in hotels. You can drive your luxury RV to so many beautiful places all over the country, while to get the same level of luxury in a hotel, you would need to be in a major city. You can bring the comforts of home with you even to the most remote locations or you can stay in an RV resort, depending on your tastes.
Luxury RVs come in all sizes too, so you can select a smaller one that will enable you to transition easily from the wilderness to the city, or you can opt for a 45-foot behemoth that will feel like a mansion on wheels. 
Where To Rent a Luxury RV
You can rent luxury RVs from peer to peer sites like Outdoorsy or RVshare, or you can rent from companies like Luxe RV Rental or Allstar Coaches. It just depends on your preferences whether you want to rent from a company or a private owner. 
Examples of Luxury RV Rentals
We took a look at some of the luxury RVs available for rent around the Pacific Northwest for examples, and here is a selection of what's available now:
This 24-foot Class B sleeps two people and is listed for $300 per night. It features a full kitchen with a refrigerator, microwave, stove, and oven, as well as a toilet and both an indoor and outdoor shower. It is solar-equipped and comes with a generator to power the air conditioning and heater so you will always be comfortable. The van has a backup camera so you can be confident driving as well as a TV and DVD player for movie nights. 
This 25-foot diesel Mercedes Benz RV is listed at $550 per night and features a bed that can be set up either as a king-size or as two twin beds with a walkway in between them. The chairs in front can also be turned into another twin bed. It has two TVs, a full bathroom, a skylight, a microwave, and a refrigerator and freezer. You won't break the bank on diesel with this RV since it gets 15-19 miles per gallon. Off-roading and attending festivals is not allowed in this RV.
This massive Class A RV is also listed for $550 per night, and it has four slide-outs, marble floors, a full residential-sized kitchen, a washer and dryer, large shower, sleeping capacity for 10, an electric fireplace, and 10,000 pounds of towing capacity in case you want to bring a boat or small car.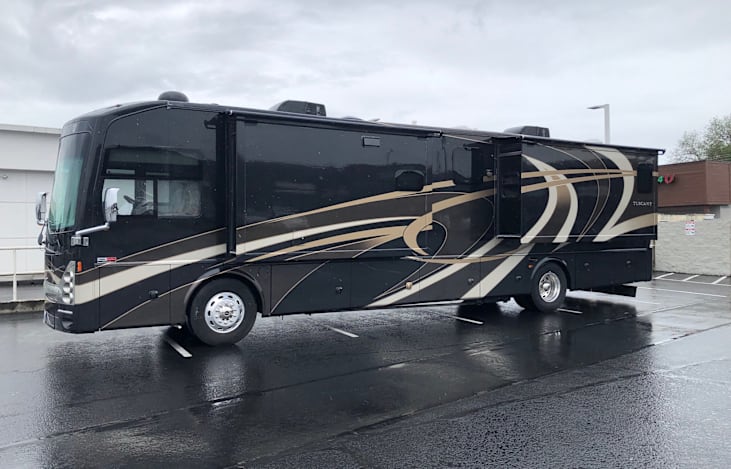 This 41-foot Class A is listed for $650 per night and can sleep up to four people. It has three huge slide-outs and a dark wood and cream interior, and a beautiful kitchen with a stove, refrigerator, and microwave. The RV also features a rear vision camera and built-in navigation, as well as an electric generator to keep things running smoothly even when you aren't hooked up.
I shared those examples for you to see the caliber of a luxury RV rental. You'll want to visit the websites recommended above to find a luxury rental near you (or your destination if you're traveling far from home). Use the advanced search feature and add the keyword "luxury" to find a selection of high-class rigs for a truly memorable RV adventure.
Tell me – what do you think about getting a luxury RV rental for your trip? What they of rig are you considering?
RELATED POSTS: